2018 NCSM Annual Conference
Welcome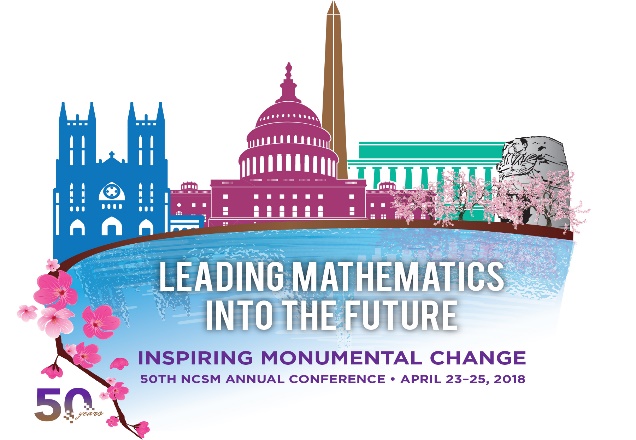 Dear Colleague,
We are excited that you are interested in submitting a proposal to speak at NCSM's 50th Annual Conference in Washington DC April 23 - 25, 2018! We are celebrating our first 50 years of mathematics leadership and looking forward to exploring our mathematical future. The 2018 NCSM Annual Conference focuses on fostering productive change by offering leaders the tools and knowledge they need to enhance the learning of each and every student. The success of our annual conference is contingent on the expertise of our members who take the time to share so that we might enrich our work with mathematics leaders.
Please read the information provided in the Speaker Guidelines carefully. This is a peer review process and it will help you create a more successful proposal if you adhere to the criteria use by the reviewers.
We invite proposals that focus on the following conference stands:
Equity in Practice
Cultivating a Mathematics Coaching Practice
Evidence and Experiences from the Field
Developing Mathematical Knowledge for Teaching
Leading Mathematics into the Future
Read the guiding questions and explanations of the strands to help you determine where your proposal will best fit into the program. Please make sure that your title and descriptions clearly communicate an accurate picture of the session you will share because participants will only have those two things to help determine the sessions they will attend. We look forward to reading your proposal. Remember that we are not able to accept all of the great proposals we receive. Regardless of whether your proposal is accepted we hope you will join us in Washington DC to celebrate and help Inspire Monumental Change.
The deadline for submission of your proposal is June 1, 2017.
Sincerely,
Connie S. Schrock
NCSM President
Kimberly Morrow-Leong
NCSM 1st Vice-President